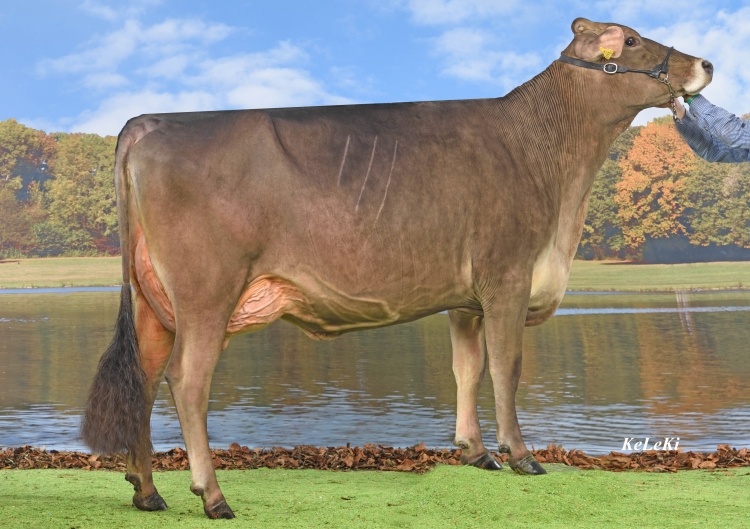 NGG BULLS ARE YOUR CHOICE TO HAVE IT ALL
Following the release of the April 2018 genetics, NGG bulls are leading the way for PPR, Milk, Fat, Protein, Health Traits, Type, Udders, NM$ & the best genomic bulls in the breed!
-NGG currently offers the #1, #2 & 2 bulls tied for #5 Proven bulls for PPR

- 3 of the 5 top NM$
- The top 3 Proven Type Bulls
- 3 bulls Tied for #2 G-Type Bull, #3 G-Type bull and 3 bulls tied for #5 G-Type
- 2 of the top 3 G-PPR bulls
- 3 of the top 5 proven milk bulls
- 3 of the top 5 proven fat bulls
- 3 of the top 5 proven protein bulls
- 3 of the top 5 G-Protein bulls, the top G-Fat bull, 2 of the top 3 G-Milk bulls
-The #1 G-PPR, G-Type, G-UDC, G-PL & G-DPR POLLED Bull
- the #1 G-SCS bull, #1 G-PL bull and #1 G-NM$ bull

54BS509 CADENCE- what more can be said as this bull continues his dominance as the #1 Proven PPR bull! He also ranks in the top 5 for Type, NM$, Fat, Protein, and Milk. Cadence added more daughters and saw his milk proof rise to now over +1300 with 53 fat and 47 protein. His Type rose to +1.2 with a +1.23 Udder Composite. Cadence's influence can be seen as the top G-PPR bulls and G-PPR Heifers in the breed have CADENCE in their pedigrees.

54BS482 CARTER- Remains the #1 proven Type bull and continues to add more daughters and holds at +1.4 Type with a +1.10 UDC. Carter again went up for milk and is truly showing what he daughters can do as he is now +1183 milk! Carter is making show winners, sale toppers, high genomic females and big time milk cows with high scores and honestly we may have yet to see his best daughters fresh so be on the lookout!

54BS526 DAVENPORT continues with high type and very consistent daughters. Davenport is a on the farm type specialist at +1.0 Type and +1.46 UDC. He is +609 milk, 4.1% CE and is making some of the most consistent cows on any farm and is available in sexed semen!

CHAMPIONS COLLECTION 54BS539 RICHARD is now proven and what a sky rocket this bull is riding. He is the #2 Proven Type bull at +1.3. His UDC ranks at the top at +1.21 which is very evident as the first daughters are calving with "WOW" udders. His milk is now a staggering +1314 making him #2 Milk Proven bull. He remains one of our most popular bulls and is making the right kind and can be found in Preferred Sex Semen!
54BS544 Dario graduates into our proven lineup with outstanding numbers as the #1 NM$, #1 PL, #1 DPR, #2 PPR and #3 Protein proven sire. His proof is at $471 NM$, +5.3 PL, +2.7 DPR, 166 PPR and +1023m, +33f, +37p.



54BS573 Lucky Carl is the #1 Fat, #1 Protein, #2 G-PPR and #3 Milk genomic bull of the breed. He hails from the same family as 54BS482 Carter as he is a Get Lucky x VG 87 Cartel x VG 89 Voelkers Brook Cara. At +74f & +60p and +1776, Lucky Carl will add components and milk to the tank. Lucky Carl holds his own for type as well at +1.0 making him a bull that breeders who want the high ones can't leave out of their program and those that want to make money well here is your chance!
54BS577 Silver is the #1 NM$ bull at $546 NM$. Silver is a Kannon son from a VG 86 Cadence daughter who is one of the top 20 G-PPR cows in the breed. Silver is a bull that genomics was meant to make us as he combines two of the top PPR bulls in his immediate sire stack. This resulted in an all around bull that every breeder will want to get their hands on. Silver is +1179m, +60f, +50p, +1.0 Type and +1.45 UDC. As you can see a true bull with not only no holes but excels in every phase!
54BS558 Daredevil is the bull every breeder has been waiting on as he is one of the first bulls to blend both worlds of index and type breeders. Daredevil is tied as the #2 G-Type at a staggering +1.5 with a high udder composite at +1.53. His first daughters are born and showing his lofty type expectations true as they are "FANCY" with style, size, length & straight lines making them standout to owners and he can be used in sexed semen now!


CHAMPIONS COLLECTION UPDATE:
54BS581 Rasta is a new Champions Collection bull from December proofs sired by European favorite Glenn and out of Jo-Dee Nemo Risky who is a multiple time All American award winner and full sister to 54BS539 Richard! Rasta is tied as the #2 G-Type bull at +1.5 and +1.59 UDC. Rasta is positive for milk and solid for health traits so not only is he fit to make the next show winner but they will make you money milking them too!
54BS568 Fast & Furious is a start your engines kind of bull. His first offspring are on the ground and boy are they fancy! Out of the first EX 97 and two -time grand champion at World Dairy Expo Brown Heaven Glenn Fantasy, Fast & Furious is sure to get your engines going. He is ready to make show winners with a +1.2 Type and a +1.39 UDC and can make a huge dent in the milk tank too as he is over +900 for milk!

SPECIAL NEW GENOMIC GEMS:
54BS583 Doboy is a new genomic gem and will for sure have you saying WOO-HOO! He comes out tied as the #2 G-Type bull at +1.5. He is a DAREDEVIL son out of VG-86 CADENCE daughter. Doboy will add production and components with +1329m, +53f, +44p and $510 NM$. At +4.5 PL and a calving ease at 4.8%, Doboy will for sure be the sire you will want use in your herd.


YOUNG SIRE UPDATE:
54BS586 Kade NP debuts as the #1-G PPR polled bull of the breed and is the #1 Type, #1 PL, #1 DPR, #1 UDC genomic polled bull. A Jay P son out of a VG 88 Harts Thunder, Kade will provide you with a polled opportunity. His dam made nearly 40,000 lbs. of milk.
54BS582 Juke is a type leading CARTER son from a brand new cow family with production. As the #3 Type genomic bull of the breed at +1.4, Juke will make daughters that look fancy! His production numbers are at +653m, +29f and +22p. Semen release date is May 15, 2018.
54BS578 Defender is from the famous Vigor Dolly family. A DAREDEVIL son out of Biver Date, Defender has an outcross pedigree with high type, UDC and production. His type is at +1.2 with a +1.23 UDC. Production numbers are high at +1037m, +41f, and +40p. An A2/A2 bull, Defender will be a great bull to use in any herd!
54BS580 Phantom Hails from the Historical and top quality Voegeli Farms and is a type leader with SUPREME blood ripe for using. Phantom is +0.9 type and +1.26 UDC and is a Biver son from a Supreme who has made nearly 40,000 lbs. in her previous lactation while standing with some of the best show cows in the country at WDE! He is +572 for milk, +29f, and +29p making him a great choice for an outcross option while bringing the famous Supreme blood back into your herd!
---