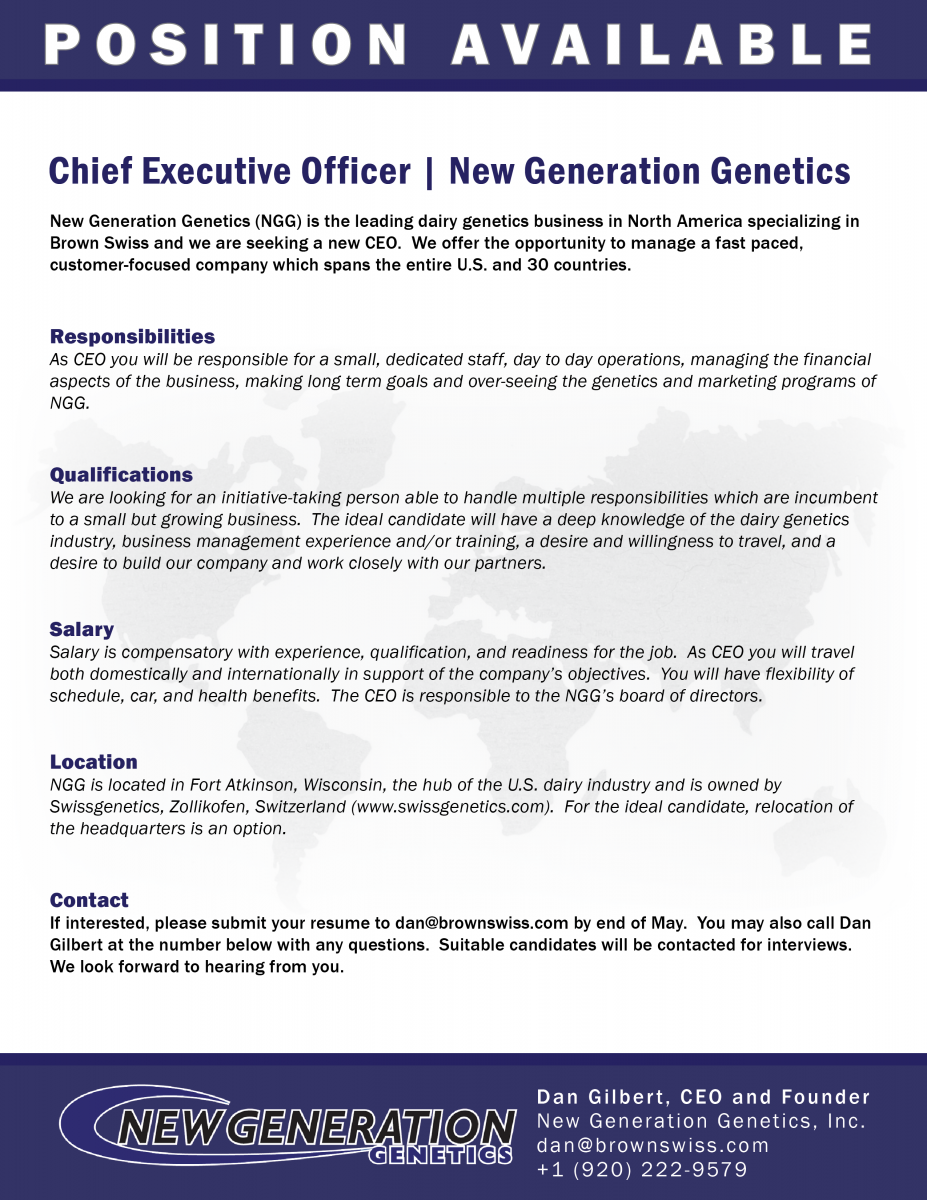 NGG Begins Search for New CEO
Career Opportunity:
Chief Executive Officer, New Generation Genetics, Inc.
New Generation Genetics (NGG) is the leading dairy genetics business in North America specializing in Brown Swiss and we are seeking a new CEO. We offer the opportunity to manage a fast paced, customer-focused company which spans the entire U.S. and 30 countries.
As CEO you will be responsible for a small, dedicated staff, day to day operations, managing the financial aspects of the business, making long term goals and over-seeing the genetics and marketing programs of NGG.
We are looking for an initiative-taking person able to handle multiple responsibilities which are incumbent to a small but growing business. The ideal candidate will have a deep knowledge of the dairy genetics industry, business management experience and/or training, a desire and willingness to travel, and a desire to build our company and work closely with our partners.
Salary is compensatory with experience, qualification, and readiness for the job. As CEO you will travel both domestically and internationally in support of the company's objectives. You will have flexibility of schedule, car, and health benefits. The CEO is responsible to the NGG's board of directors.
NGG is located in Fort Atkinson, Wisconsin, the hub of the U.S. dairy industry and is owned by Swissgenetics, Zollikofen, Switzerland (www.swissgenetics.com). For the ideal candidate, relocation of the headquarters is an option.
If interested, please submit your resume to
dan@brownswiss.com
by end of May. You may also call Dan Gilbert at the number below with any questions. Suitable candidates will be contacted for interviews. We look forward to hearing from you.
Dan Gilbert, CEO and Founder
New Generation Genetics, Inc.
+1 920-222-9579
---