NGG Presents Bull of the Year 54BS558 DAREDEVIL
NGG Presents Bull of the Year 54BS558 DAREDEVIL
2020 began like any other year- with the eager anticipation of farm visits, shows, conventions, and other events that would bring Brown Swiss breeders together. In March the world threw a curveball, and at a time when little was certain, NGG remained committed to being your greatest source of Brown Swiss genetics. By May NGG employees and newly minted summer intern Sarah Lehner were back on the road. Every trip seemed to have a common theme – an abundance of incredible 54BS558 DAREDEVIL daughters in every corner of the country!
In May Sarah and Jake saw 12 Daredevils in Ohio and to say they both came home overflowing with excitement is a true understatement. These cows were everything his #1 G-Type (at time of release) predicted: high & wide rear udders, long smooth fore udders, youthful mammary systems, good crease, and correct teat placement. The udder is just the beginning as they scream style, length, size, and cleanness of bone. Their feet & legs are ideal set with strong pasterns, and to top it off they milk well!
Daredevil's story doesn't end with great cows in barns. Thankfully a handful of shows were still organized in 2020, and Daredevil daughters blew spectators and judges out of the water. At the Ohio Summer Dairy Show 2 Daredevils, La Rainbow Sweet Silky and R-Hart Daredevil 126 ET, set the breed on fire with their standout performance. The latter went on to earn Intermediate Champion honors at the Southeastern National Show this fall. In October two second lactation Daredevil daughters from Edge View Genetics found success in the ring, as Cutting Edge D Trish ETV was named Intermediate Champion at the Southwest National Show and Cutting Edge D Neema ET was tapped Reserve Intermediate Champion at the Northeast All Breeds Show on the same day. Numerous Daredevil heifers also stood at the top of their classes and their futures are extremely bright. He has cemented his position as one of the USA's top show bulls among the likes of legendary All-American makers 54BS482 CARTER and 54BS436 TOTAL.
Cutting Edge D Trish 'EX 91 EX 91 MS'
1st Jr. 3, Honorable Mention Grand Champion & Intermediate Champion Southwest National 2020
1st Jr. 2, Harrisburg All-American Dairy Show 2019
Owned by Edge View Genetics, Ken Main & Kenny Jo Manion, NY & KY
The success of Daredevil daughters should not come as a surprise, as he hails from an incredibly long line of elite cattle on both sides of his pedigree. On the top side he traces back to the Top Acres "B" hive that includes famous individuals like Bounty & Bouquet. On the bottom side his dam, Hilltop Acres Bose Dixiland, is arguably the best Bosephus of all time. She is out of EX Glenn Dignity (dam of 54BS596 DIEGO the #2 G-Type Bull) x EX Vigor (mother of multiple bulls in A.I. and Vigor cover daughter) x EX Premium Dally from Cutting Edge x All American Arthurst Garbro Dixie EX 94 who is one of the top selling females of all time in the breed. This bull was bred & owned by the Mashek family of Hilltop Acres in Iowa.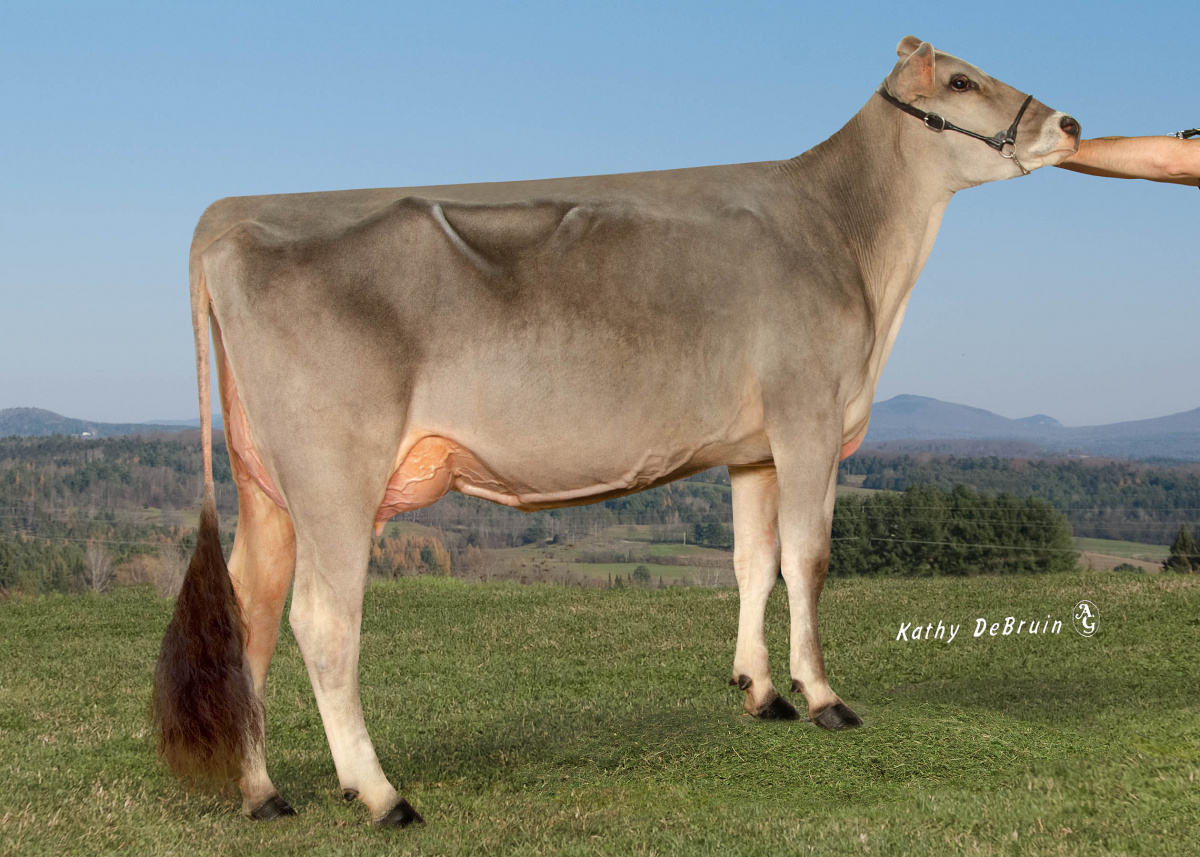 IE Double W DD Glenda 'V 86'
2nd Jr. 2, Southwest National 2020
Owned by Double W Farm & Goldfawn Farm, CO & TX
It has been a real treat to be on the road to see these amazing cattle this year. Some of our favorites include:
-R-Hart Daredevil 126 ET 'V 89 EX 90 MS'-bred & owned by R-Hart Farm, OH (Banner cow)
-Cutting Edge D Neema 'V 89'- owned by Edge View Genetics, NY & KY (Banner cow)
-La Rainbow Sweet Silky ET 'V 88 EX 90 MS'- owned by John & Bonnie Ayars, OH (Banner cow)
-Hilltop Acres Daredevil Dynamic 'V 87'- bred & owned by Hilltop Acres, IA
-Hilltop Acres Ddevil Kassidy ET 'V 88'- bred & owned by Hilltop Acres, IA
-Locin Daredevil Fiddle 'V 85"- bred & owned by the Nicol family, OH
-La Rainbow Sweet Sizzle 'V 87' - bred & owned by La Rainbow Farms, OH
-Blessing Daredevil Vagus ' V 86' - bred & owned by Blessing Farms, IN
-Jenlar Daredevil Trickster ' V 87 EX 90 MS'- bred & owned by Jenlar Brown Swiss, WI
-La Rainbow Sweet Siesta ET 'E 90 E 90 MS' (Dam of 54BBS604 SPARK *NP)- bred & owned by La Rainbow Farm, OH
-R Choice DD Groovy 'V 88 E 90 MS' - owned by Hill, Wisely & Hyman, NY
-R2J2 Dare to Win 'V 85 E 90 MS' - bred & owned by the Giesy family, NY & FL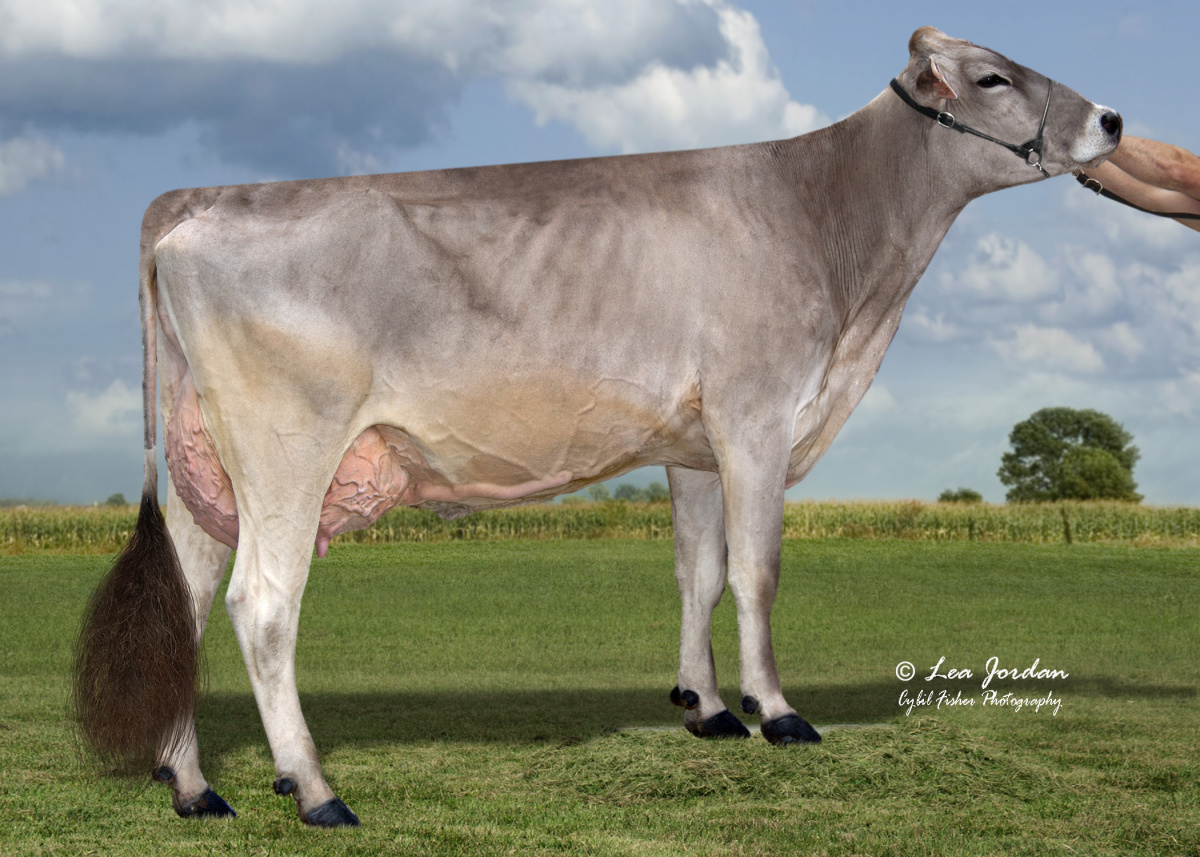 Hills Valley Daredevil Wobble ET 'V 87 EX 90 MS' (2nd lact.)
Bred & Owned by Hills Valley Farm, NY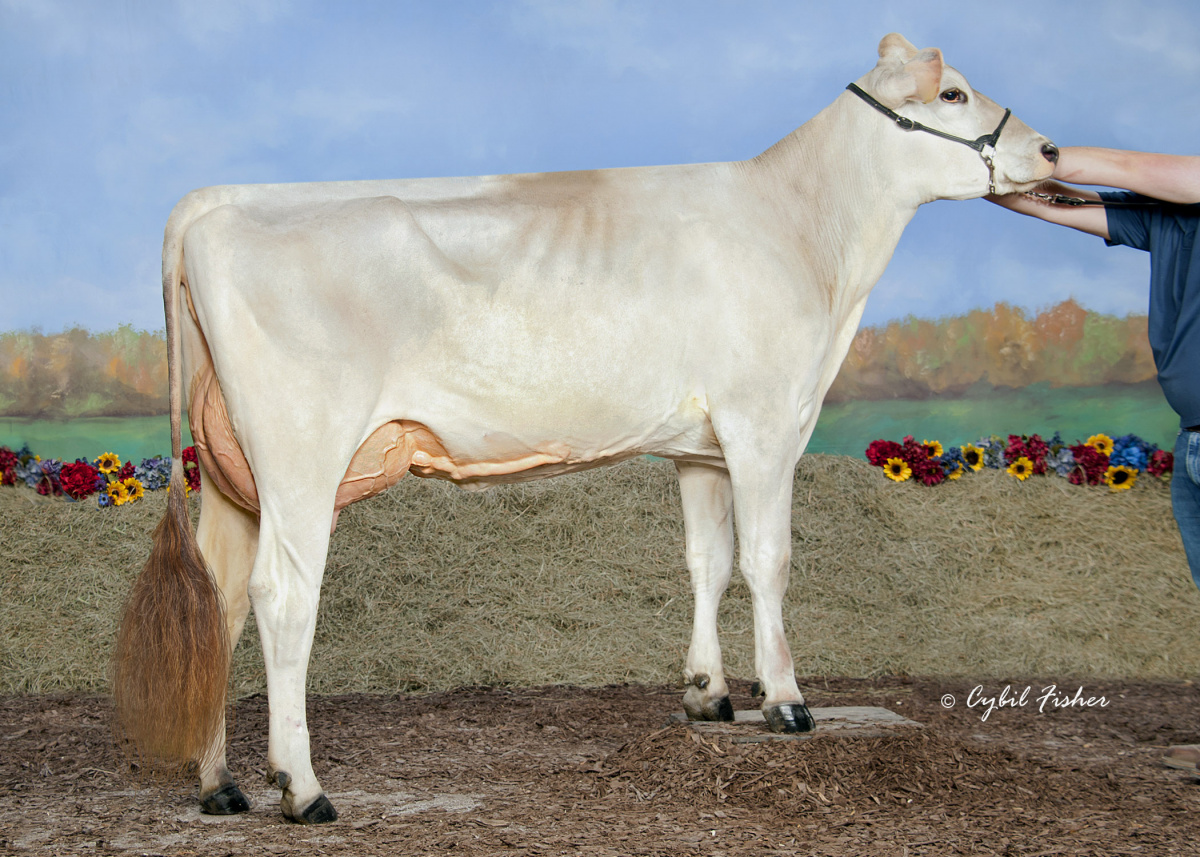 Hylight LBH daredevil Ilean 'V 86'
Owned by Hyman, Hill & Wisley, NY
To hear more about these and other phenomenal 54BS558 DAREDEVIL daughters, please visit www.brownswiss.com to view previous episodes of Let's Talk Cows as Daredevil was featured in each video. Additional daughter photos can be found on the New Generation Genetics' Facebook page. Daredevil is a bull you do not want to miss out on, as described by NGG staff below:
NGG Summer Intern Sarah Lehner
"On my very first trip we saw some awesome-uddered early Daredevil daughters, and as the summer progressed it became clear that he is the number one proven type bull for a reason. He consistently sires cows that are ultra-dairy, clean-boned, and have tremendous height, width, texture, and balance to their rear udders. If you want to be competitive in the show ring, Daredevil is the bull to use."
NGG US Sales Manager Jake Hushon
"I think the most impressive thing about the Daredevil daughters is the rear udder height. Honestly, no other bull is doing that farm to farm, state to state, and country to country from the USA. Each trip out I was so excited to seek out the next Daredevil daughter, and each time they all looked the same. His consistency is what separates him from the rest, and the elite level of udder and standard he is setting is outstanding. Every trip there was a new and awesome one. I haven't seen a bull make this kind of splash since CADENCE and BROOKINGS before him."
NGG President Dan Gilbert
"As you can read and if you have been following our videos, photos, and most importantly our farm visits, you have for sure heard about Daredevil and the impact he is having on herds and what he can do for you. The question you must ask is "How high do you want your type and udders to go?" The answer is simple call, email, text, send a letter, or facebook us and order 54BS558 DAREDEVIL or 554BS DAREDEVIL SEXED today!"
To learn more about 54BS558 DAREDEVIL's family tree & lineage please see the link with the "Bull of the Season" feature on Daredevil in 2019.
https://brownswiss.com/library/news/DAREDEVILBullofWinter.pdf
---